Original Fritz Glarner mural "Relational Painting #88" restored as part of Rockefeller Center skyscraper lobby restoration
The lobby of 1271 Avenue of the Americas is a New York City landmark. The anchor of the modern expansion of Rockefeller Center to the west side of Sixth Avenue – famous in pop culture for being the fictional office of Mad Men's Sterling Cooper Draper Price – the former Time & Life Building continues to be regarded as one of the best preserved examples of mid-century modern design and architecture.
An iconic feature of the lobby is the colorful and enormous Fritz Glarner mural, "Relational Painting #88." As 1271 Avenue of the Americas underwent renovations over the past several years, Rockefeller Group consulted ArtCare Conservation to protect and restore Glarner's artwork.
The first step was to protect the piece from dust, debris, and vibration during renovations. A long fiber tissue was fixed to the surface of the painting with a water-soluble adhesive. The paper protected the painting from dust, small debris, and any vibrations that could shake the paint loose.
With the mural protected, care was then taken to remove the protective tissue, and the restoration process began. Over the years, Glarner's mural had naturally begun to yellow. It's unknown if a coating or varnish was added to the mural at the time it was painted, or in later years, but it was determined that the acrylic resin needed to be removed to reveal the brightness of the original work.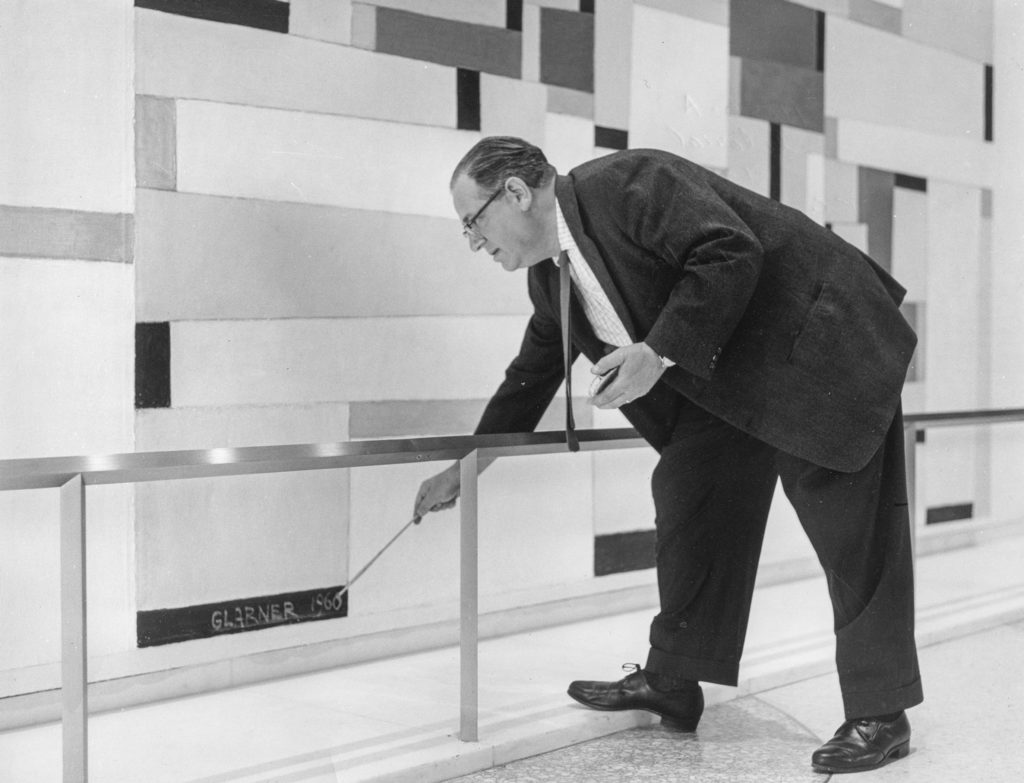 The team discovered each color area varied in thickness and texture, so each square was required to be treated as its own painting. Different colors had different solvent sensitivities. The red, yellow and black squares had a different sensitivity to acetone solvent than the white, gray and blue squares. After carefully removing the yellowed coating over a span of two months, the ArtCare team used syringes to inject adhesive into the base of the painting to stabilize the paint onto the canvas – and even in some places the canvas onto the wall.
Varnish was added last to saturate the colors and bring them back to life—the blacks darker, reds deeper, and yellows brighter. The finishing varnish snapped the whole mural into focus and the pattern of trapezoid shapes became clear again.
Now Glarner's mural, completed in 1960, is restored to its best condition for tenants and visitors to enjoy for years to come, and 1271 Avenue of the Americas continues to be a devoted host.
Signup
Stay up to date with the latest Rockefeller Group news.